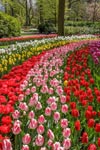 Keukenhof: Skip The Line and transport from Amsterdam
Price from $ 57.10
It's tulip time! A visit to the famous flower field Keukenhof outside Amsterdam, known as "The Garden of Europe", is a rare opportunity: it's only open six weeks a year in the spring.
Highlights:
- Skip the line to the popular park Keukenhof
- Bus shuttle between Amsterdam & Keukenhof is incl. in the price
- Experience one of Holland's largest attractions
- Enjoy 32 hectares land with over 800 kinds of tulips
- Admire much more than just tulips
- Bring the kids to the petting zoo
Visit the Beautiful Park Keukenhof
When you see the Keukenhof's fields of more than seven million tulips spread out over 32 hectares, you'll understand two will become very clear: 1) tulips really are beautiful. And 2) the Dutch sure do love them!

The tulip is to the Netherlands as the Taj Mahal is to India, or the Eiffel Tower is to France: a symbol of the country known around the world. But while you can see the Eiffel Tower and the Taj Mahal year round, you can only see these tulips in the spring.
These skip the line tickets will get you right into this exquisite flowerfest. And, as you wander the colorful gardens and pavilions, you'll also learn the story of the Dutch love affair with the tulip; it can be traced back to the Dutch Golden Age of the 1600s.
Now you can really 'say it with flowers', and feel the romance throughout the flower shows, two gardens, and the flower mosaic.

Don't feel like driving?
Incl. in your ticket is direct transport and travel to Keukenhof on a shuttle bus from central Amsterdam(departs from A'DAM Lookout), complete with a video offering loads of information on the 'Garden of Europe' - and on Amsterdam on the way back. Journey time is approx. 55 minutes.

How do I get my tickets?
Shortly after your booking is complete your e-ticket will be sent directly to your email. Mobile tickets are accepted.

How long is my ticket valid?
Your ticket is valid for the date you choose.

What's included?
-Skip the line entrance to Keukenhof.
-Transport between Amsterdam and Keukenhof

What ticket types are available?
Adult (11+)
Children (4-10)
Infant (0-3)
Keukenhof: Skip The Line and transport from Amsterdam Info
Keukenhof: Skip The Line and transport from Amsterdam
Stationsweg 166A
2161 AM Lisse
Info
Keukenhof: Skip The Line and transport from Amsterdam
Open in 2019: 21/03 - 19/05.
Busses departs to Keukenhof from A'DAM Lookout in Amsterdam between 09:00 - 14:30, every 30 minutes.
Busses returns to Amsterdam from Keukenhof between 10:00 - 15:30, every 30 minutes. 15:30 - 18:30, every hour.
Directions
Directions




View map
The season is over. Tickets for next season will be on sale in June–. Please check the website for details.